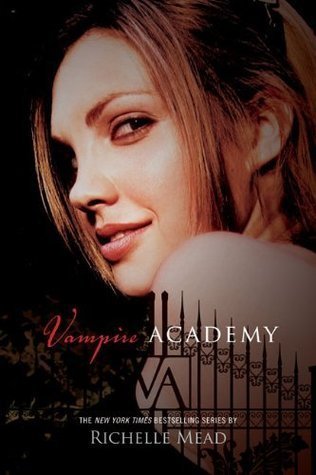 Vampire Academy
Author: Richelle Mead
Series: Vampire Academy #1
Genre: Young Adult Paranormal
Publisher: Razorbill | August 16, 2007
Pages: 332
Add it: Goodreads
Buy it: Amazon
| Book Depository
Only a true best friend can protect you from your immortal enemies . . .

Lissa Dragomir is a Moroi princess: a mortal vampire with a rare gift for harnessing the earth's magic. She must be protected at all times from Strigoi; the fiercest vampires – the ones who never die. The powerful blend of human and vampire blood that flows through Rose Hathaway, Lissa's best friend, makes her a dhampir. Rose is dedicated to a dangerous life of protecting Lissa from the Strigoi, who are hell-bent on making Lissa one of them.

After two years of freedom, Rose and Lissa are caught and dragged back to St. Vladimir's Academy, a school for vampire royalty and their guardians-to-be, hidden in the deep forests of Montana. But inside the iron gates, life is even more fraught with danger . . . and the Strigoi are always close by.

Rose and Lissa must navigate their dangerous world, confront the temptations of forbidden love, and never once let their guard down, lest the evil undead make Lissa one of them forever . . .
---
"Only a true best friend can protect you from your mortal enemies."
So, what's it about ~ Boarding school with a twist. Student population comprised of vampires as the title of the book so nicely describes. There are three types of vampires. 1. Moroi – who drink blood and have powers that are called elements. 2. Dhampirs – do not drink blood, also does the general ass kicking to protect moroi from 3. Strigoi – evil, bloodsucking monsters that are more like the vampires from legends, myths, and horror movies. VA also has one kickass heroine, an awesome friendship, one hot Russian dhampir, and some high school drama.
 The Characters ~ Rose Hathaway is the kind of girl who will kick you in the mouth and ask questions later. She's real snarky and knows how to seriously whip some ass. I absolutely love Rose. I love her take no crap attitude and her fierce loyalty. I especially love how she knows how to fight. Not many YA heroine's have this ability so it's very refreshing to find this in Rose's character.
Dimitri Belikov is repeatedly referred to as a "god" in Vampire Academy. It's no wonder because, man, if you've read VA you would know what they're talking about. That dude is one BADASS. Six foot six of pure unadulterated muscle that wears a badass duster, kills strigoi, and reads freaking badass Western novels.
Wait, what?? ~ Forbidden teacher student relationship ???
The Buzz
Wow! Richelle Mead really knows how to write YA… and with vampires! And you guys know how much I adore those bloodsuckers :). Rose and Lissa's dynamic is great to read about. I love how they have each other's back and would do anything for each other. Romance and action blend together perfectly in Vampire Academy. Great book!
Rating